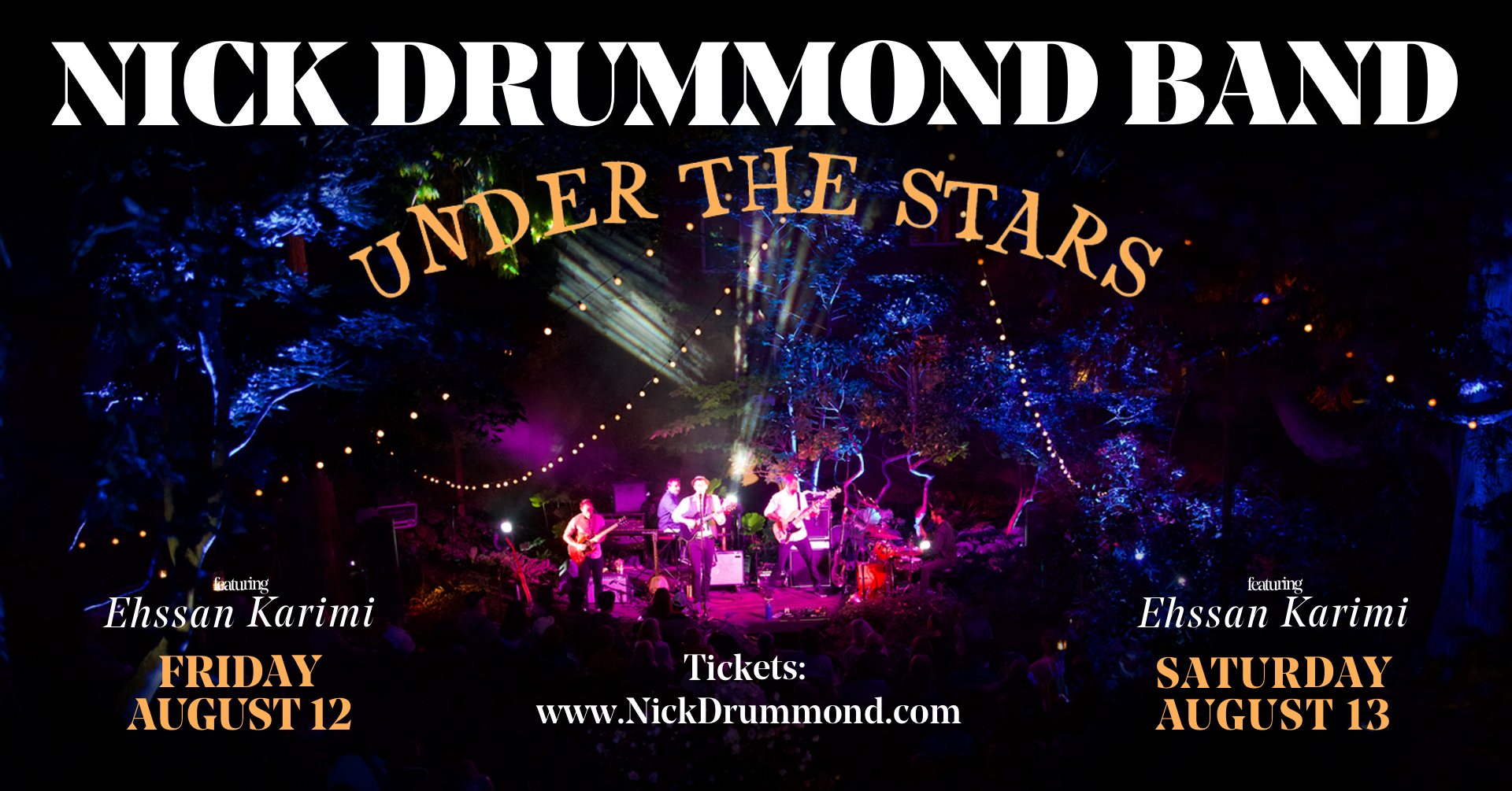 Nick Drummond Band - Under the Stars 2022 - SATURDAY 8/13
*THE MOST UNIQUE SUMMER CONCERT IN THE PNW*
Imagine one of the regions most exciting and dynamic bands, stretching their wings out in an exquisitely landscaped North Seattle garden with 100 year old cedars overhead, all while the the stars shimmer above you and candle light dances beneath the branches. This is NICK DRUMMOND BAND'S annual Under the Stars Concert Series, and it is simply not to be missed.
Bring your picnic and your friends, and join us for an incredibly fun evening of music and magic. These shows are talked about for months afterwards and always sell out, so grab your tickets early.
https://btt.boldtypetickets.com/events/126246631/nick-drummond-band-under-the-stars-2022
Join us for FOR THE RETURN of Under the Stars - NICK DRUMMOND BAND'S immensely popular Garden Concert in North Seattle, BOTH SHOWS FEATURING A SPECIAL PERFORMANCE BY EHSSAN KARIMI!
***SEATING IS LIMITED! Get your tickets now!***
https://btt.boldtypetickets.com/events/126246631/nick-drummond-band-under-the-stars-2022
FRIDAY, AUGUST 12th
SATURDAY, AUGUST 13th
7:00pm doors, 7:30pm show.
About Nick Drummond Band:
Seattle singer-songwriter, Nick Drummond, is a chef and his music is a sumptuous feast. To hear Drummond's songs is to sit down at a long dining room table, tuck in your napkin and begin to digest all that's set before you. First the smells and sights then the sounds and conversations that swirl about. With the close and reopening of your eyes, your table is suddenly transported outdoors, Mad Hatter-style, with teacups and intoxicated cats draped over their delicate plates. The songs continue, lavishly.
Drummond is a mainstay in the Emerald City. Whether performing solo with nimble fingers and elastic vocals or backed by some of the region's best players, from the renowned organist Joe Doria, celebrated guitarist Cole Schuster, or the pocket-perfect combination of bassist Mark Mattrey and drummer Ehssan Karimi, Drummond brings his sonic cornucopia to audiences in rooms of all sizes and states. He's sold out nights at Jazz Alley and the Triple Door. He's played the Showbox and Neumos, fingers dancing on acoustic guitars and electric banjos.
The Nick Drummond Band released its debut record, Eye of the Storm, in 2020 and it immediately earned acclaim from local press and radio, including regular rotation on KBCS 91.3 FM. The music has earned spins on KEXP and across the country's college stations. Dubbed a composer of "brilliant, Dionysian music" by public radio's Garrison Keillor, Drummond sings nourishing tunes perfect for banquets, caloric party songs and even the delightful lullaby by which to blow out the candle and prepare again for tomorrow's indulgences.

Opening act Ehssan Karimi is an immensely talented drummer and percussionist who plays with some of the top bands in the Pacific Northwest. At Under the Stars he will be performing his original compositions on the Hang drum. The Hang is a rare steel pan instrument made in Switzerland, and in 2008 Ehssan got his hands on one. The sound structure produces a mellow resonant tone which opens the hearts of all listeners. Ehssan's latest record -DHT- is a collaboration with fellow Handpan player Kyle Baker and features compositions by both artists. The music is Rhythmically driven, with beautiful energetic melodies woven throughout.
You can find out more about Ehssan's Hang music at https://doublehangtendre.bandcamp.com