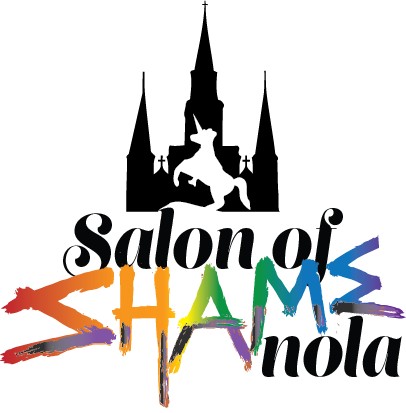 Salon of Shame NOLA #1, Benefiting Trystereo!
Thu, Nov 14, 2019 at 6pm (Central)
21+
Please contact us if you require ASL interpretation or other accommodations
We are proud and excited to announce the arrival of Salon of Shame to New Orleans! Salon of Shame is a comedy diary reading show in which you share your most mortifying writings from your youth for the enjoyment of friends and strangers alike! Originating in Seattle in 2005, the show has long held a cult status in that city and now has sibling shows in Columbus, OH, Florida, and NOLA. The rules are simple: You have 5 minutes to read a writing from your youth. The writings must be original, must be at least 10 years old, and must not shame or threaten others. We are still in need of Readers (who get in free!) - sign up to read here: https://forms.gle/YuYB4UbZEp5rrwRm6
The inaugural Salon of Shame NOLA will be a benefit for Trystereo, your friendly neighborhood harm reductionists. Founded in New Orleans in 2011, Trystereo is a free, volunteer-run public health resource for people who use drugs in New Orleans and Southeastern Louisiana. Despite the tongue-in-cheek title of this event, Trystereo works to affirm the health and dignity for all of their participants. For more information and to learn how to support this work, please visit their website: https://www.trystereo.org/
if you have any questions, or if you require ASL translation or other accommodations, please visit our website (http://salonofshame.com/) or email us at nola@salonofshame.com. In the spirit of both Salon of Shame and harm reduction we want this to be an inclusive and accessible show.
We look forward to exploiting our youth for your entertainment and for the sake of harm reduction!