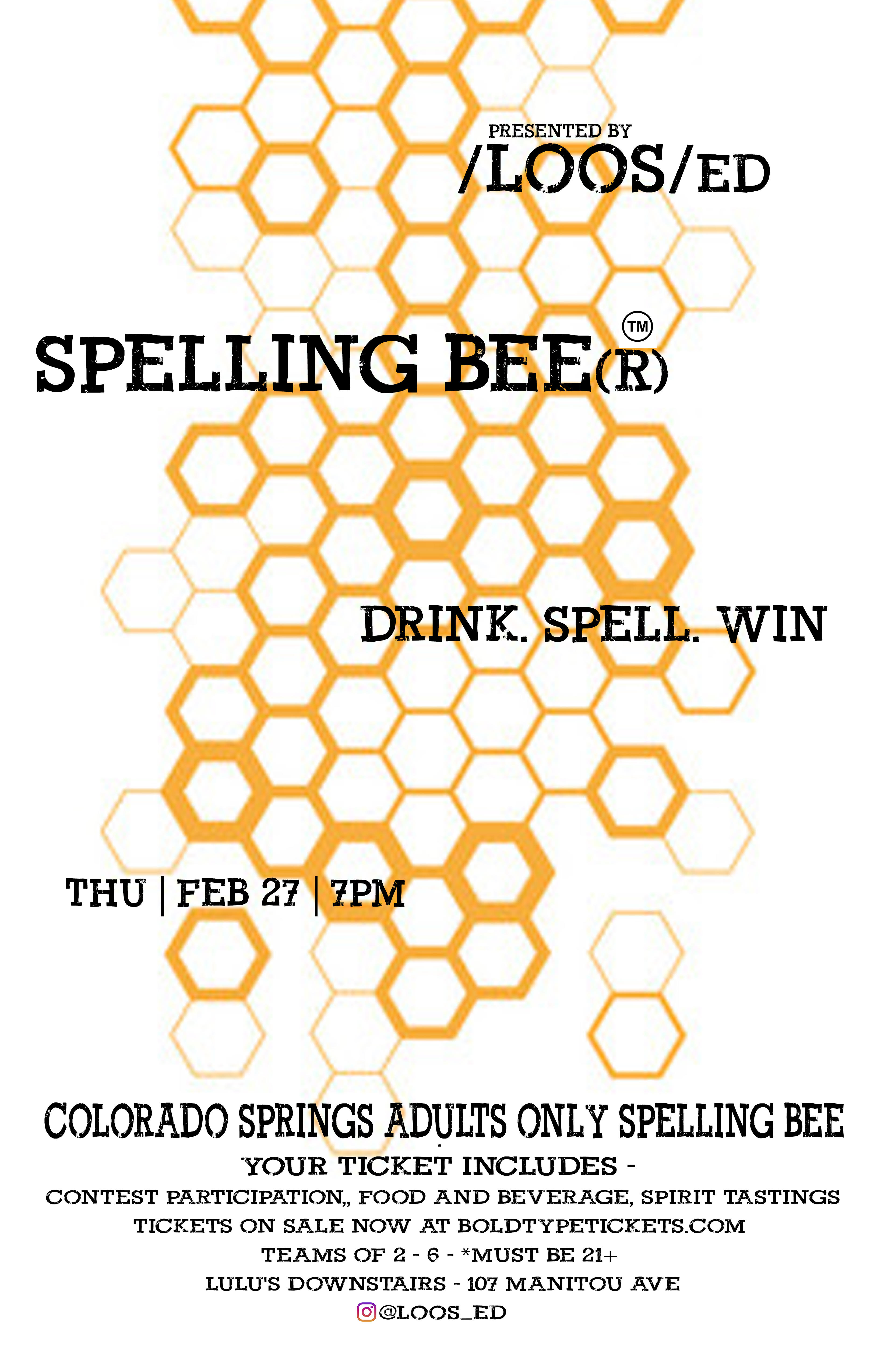 Colorado Springs Spelling Bee(r) presented by Loosed Concepts Ltd.
Colorado Springs Spelling Bee(r)
Each team will consist of 2-6 players.
All members must be adults (21 yrs. And older). All team members must have registered/purchased tickets at loosedconcepts.com
Competition Format
Teams will participate in rounds (swarms).
Teams will spell in the order registered for the Bee. Placement in the Bee will be determined by the order in which a team goes out. IE: first to misspell a word gets last place, etc.
One of the judges pronounces word, gives definition, uses in a sentence, and pronounces word again. Teams may request alternate pronunciation.
Team members collaborate on spelling the word.
Words pronounced and defined as according to Oxford Concise Dictionary
These procedures and official rules govern the spelling bee. Disputes resolved by judges. No appeals, no pardons nor commuting of decisions awarded. Disputes resolved over the correct spelling, illegible handwriting, or any other question (no matter how good) –Judges' decision is final.
Preliminary Rounds
Each team allowed one minute in which to spell and write word on board.
Teams confer on spelling. Word must be written legibly, neatly, and as large as possible.
All teams cease writing when timer is sounded and MC directs team display its spelling of word.
Preliminary Round Elimination
Teams' failure to immediately write word given at end of the allotted minute counts as misspelled.
Illegible or ambiguous writing counted misspelled
Erasing word before directed counted misspelled.
Judges determine correct spelling. Judges inform team if word is correctly spelled.
Use of a 'Stress-Bee-lief' card in order to remain in competition allowed.
Each round is over when all teams had opportunity to spell a word. Rounds continue until two teams are left. Eliminated teams may throw their (vocal) support to another team but cannot help in spelling,
No electronic devices allowed
Mulligans
Teams may purchase Mulligans before the event, when teams check in. Mulligans explained:
**The Whoopsie** These allow a team one misspelled word to avoid elimination. May purchase up to three. Not to be used in the Final/Sudden Death round(s).
*First Whoopsie $5.00 *Second Whoopsie $10.00 *Third Whoopsie $15.00
**The "Thank you, next"** This is a pass on spelling a word. May purchase up to three.
*First "TYN" $5.00 *Second "TYN" $10.00 *Third "TYN" $15.00
**The "Zinger"** Allows a team to pass and choose another team who must try to spell the word passed. Only one Zinger is allowed.
*Zinger $20.00
**The "Assist"** Allows one team member to choose one person from audience for help spelling. Audience member can't use electronic devices...scouts honor. Only one Assist is allowed per team. Not to be used in the Final/Sudden Death round(s).
*Assist $20.00
Final Round Elimination
When only two teams remain:
One team misspells, the other team has a chance at same word
If second team spells word correctly, another word is given to that same team.
This continues until one team spells both word(s) correctly or both teams spell both words incorrectly.
A max 3 final rounds are played. If no one declared winner, we move into the Sudden Death Round
Sudden Death Round
Five words are called out. Teams are given two minutes in which to write the words on a piece of paper. The team with most correct answers— WINS.
Trophy
The winning team becomes the proud recipient of the Colorado Springs Spelling Bee(r) traveling trophy and earns bragging rights for the year.