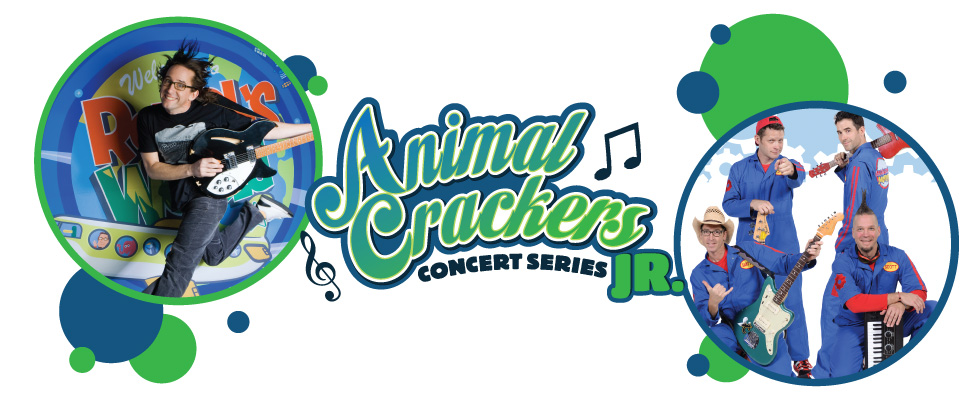 Animal Crackers Jr. Concert Series
Friday, July 9, 2021 and Friday, August 6, 2021
All the fun of our Animal Crackers Concert Series now for kids! Bring the little ones for a night of singing, dancing, and musical fun! To top it off, you can enjoy the beautiful lake view and delicious food from numerous dining options on site!
Friday, July 8, 2021 - Ralph's World
Ralph's World is the mega-fun musical planet where kids rock rock rock and dance dance dance to their own and their parents' delight. It's the creation of Ralph Covert: indie rocker, songwriter, playwright, and children's book author. He's taken the same high-energy and super-melodic sense that he developed for his touring pop-rock band to kid's music. His McCartneyesque style (both musically and his sense of charm) has won him hundreds of thousands of three-feet-and-under fans and their parents.
Friday, August 6, 2021 - Imagination Movers
The Imagination Movers are a rock band for families and the Emmy-winning stars of a hit TV series seen worldwide on the Disney Junior channel. The Movers began fifteen years ago when four friends from New Orleans brainstormed a show that would feature quality rock music and positive male role models while inspiring teamwork and creativity. The New York Times says the Movers are "prized by many parents for non-condescending lyrics and music that evokes the Beastie Boys or Red Hot Chili Peppers." Parenting magazine praised the band's "dash of rebellion" and songs that are "fresh and treacle-free."
For more information: https://www.racinezoo.org/animal-crackers-jr
Concert held rain or shine.
Purchasing tickets for Animal Crackers Jr. does not permit entry to Racine Zoo during the day.
There are no discounts for Zoo members.