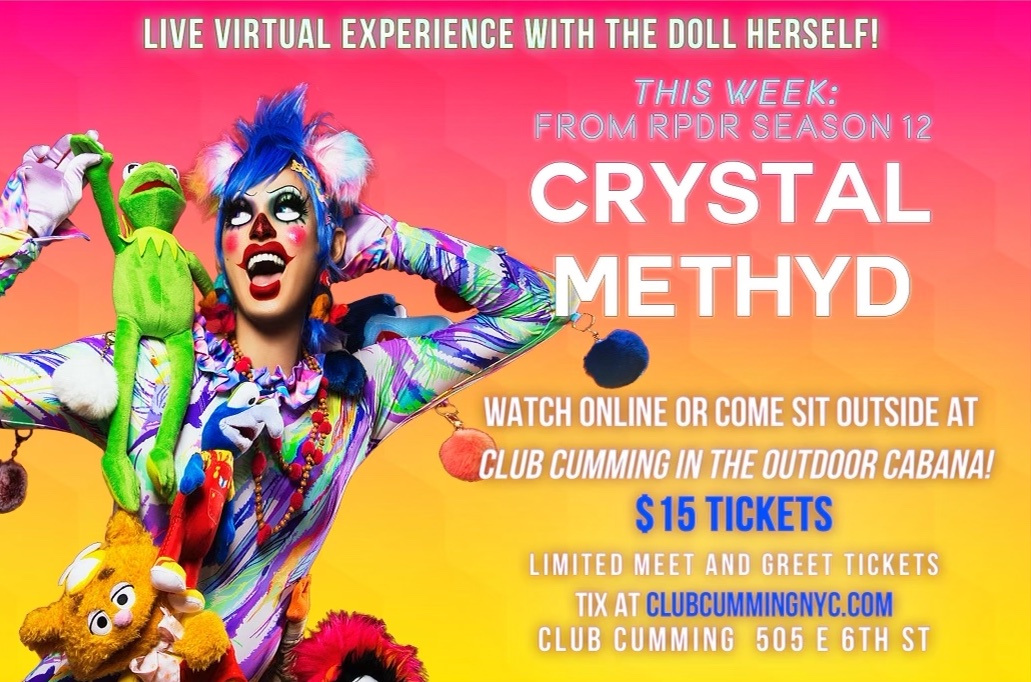 The ​BE COZY​ Drag Race Viewing with the ​DOLL at Club Cumming
GA- link will be sent to you 15 mins before show
more info
Does not include admission to viewing AT Club Cumming. In person reservations are listed through a separate link "GA Outside Club Cumming".
VIP Meet and Greet with BOTH Dolls GA- beginning at 6p.m. EST/ link will be sent to you 2 hours before show
GA Outside Club Cumming (limited to 25) 21 and over, 2 drink min
more info
21 + & a 2 Drink Minimum per person. Guests planning to join others/ share a table are encouraged to purchase tickets under the same card/ name to ensure they are sat together. Some tables/ seats may have slightly obstructed views.
Special Guest of the week: She's back back BACK AGAIN! from Season 12: Crytsal Methd
BE COZY WITH THE DOLL is a Weekly Viewing Party of RPDR SEASON 13 hosted by Season 12 French seductress NICKY DOLL. With SICKENING and LIVE drag shows from the incontournable CLUB CUMMING's stage, Be Cozy is all about having a good ol'gay time. Come enjoy some inside TEA with our weekly guests and an overall kiki. We certainly won't let Miss Rona dictate us to not have fun while remaining safe! You'll be able to also TIP the queens via Venmo/Paypal!
PLEASE NOTE: YOU WILL BE WATCHING RPDR ALONG WITH THE DOLLS, BUT WE WONT BE AIRING THE ACTUAL EPISODE
We are using Zoom for our party platform and a link to the Zoom will be sent to you within an hour of the Viewing start time. Meet and Greet ticket holders will receive a special Zoom link at 7pm EST. General Admisson Attendees will be sent the link at 7:45 anyone entering the party will be matched against the name on their ticket. Attendees without a ticket will be removed from the event.