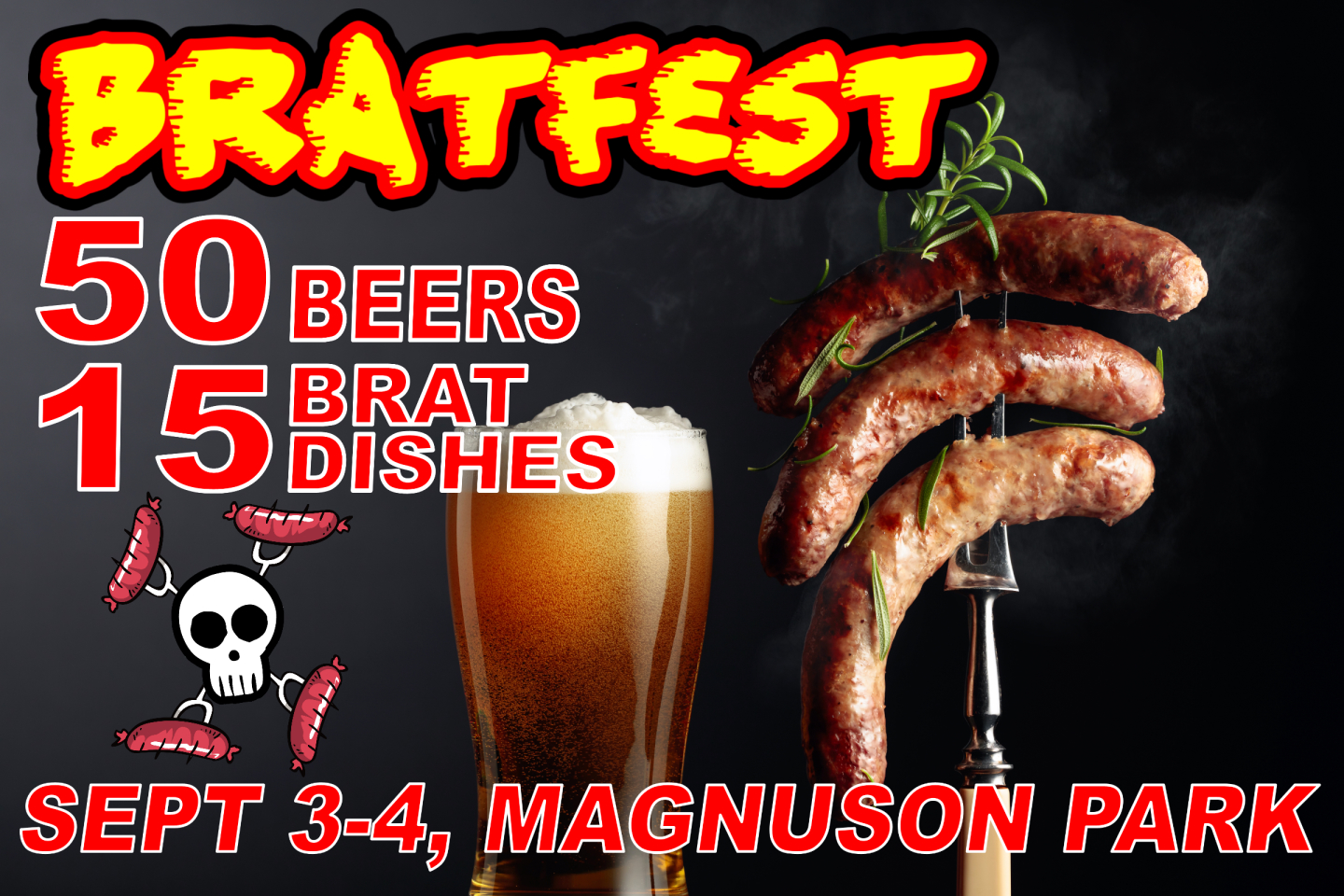 BRATFEST SEATTLE
Sat 9/3 thru Sun 9/4 (3 different session options)
ALL TICKETS MUST BE PURCHASED ONLINE.

ALL TICKET SALES ARE FINAL. (Exchanges for another session may be possible)

Simply choose your day & session time, then grab your tickets!

$60 Reg / $90 VIP

Either ticket includes 20 beer tasters (or 5 pints) & 10 food dishes
---
BRATFEST SEATTLE is everything you ever wanted out of sausage and beer. More than you can eat, more than you can drink, and loads of options in both departments. Bratfest Seattle features 15 different hand-made sausage dishes and 50 craft beers/ciders to wash them down with. Bring your appetite and thirst cuz you're gonna need em.
GUMBO? SCRATCH MEATBALL SUB? THAI CHIX SAUSAGE SLIDER? Yeah we got those. I guess we're taking some liberties with the term "Bratwurst", but you'll probably be happy we did. Bratfest is really more of an all-things-sausage celebration. Oh, and beer. And cider.
BRATFEST SEATTLE IS A COMBO INDOOR/OUTDOOR EVENT, with covered seating for over 600 people, so bring your posse, grab a table, and let the party begin. DJ Tubesteak will be there to spin some tunes and add some vibe.
THE VIP EXPERIENCE:
The VIP thing is no joke and easily the best way to go. VIP's get:
1 Hr Early Entry (VIP's only)

More food & beer choices, and those choices are primo. For the first hour only there are 2 amazing off-the-menu dishes and 2 high-end craft beers offered. Your ticket comes with 10 food & 20 beer choices, so make sure you use some on these babies.

There are only 200 VIP tickets per session.

Everyone will get the pick of the litter for seating, plus short lines for eats & drinks.
---
TASTER & FOOD CARDS
Taster & Food Cards are included in all tickets (20 Beer / 10 Food / 1 Bottled Water). Use them like money to purchase food & beer. Each beer is served in a special 5oz glass which is also included with your admission. Each food dish is served fresh, individually, in a compostable container.
HOW TO USE THEM
We have 50+ beers and 15 dishes to sample, so explore the menus, find what you want to try, give the servers your card (which they'll mark off), and get busy. DO NOT LOSE YOUR CARDS. They cannot be replaced and should be treated like cold hard cash.
NEED SOME EXTRA TASTERS?
Beer & Food cards all full? Still hungry & thirsty? Crazy talk! You can buy more where you checked in.
Additional 3-Dish Food cards are $10, and 4-Beer cards are $12. You can buy one or both.
IS THIS A GOOD DEAL?
Hell Yes! Your admission gets you any 10 food dishes (out of 15, or 17 if you're a VIP), the equivalent of 5+ pints at a bar with 50 beers to choose from, a cool venue to chill in, and drinking for a good cause.
---
We will limit ticket sales per session to control crowd size for health & safety.
ALL TICKET SALES ARE FINAL

Our Event is strictly 21+ every day.

Saturday Early Session: 1pm – 4:30pm (VIP 12pm)

Saturday Evening Session: 7pm – 10:30pm (VIP 6pm)

Sunday Session: 1pm - 5pm (VIP 12pm)

No admittance 45 minutes before session ends. No re-entry allowed.

Last call 20 minutes before session ends.

All taps close 10 minutes before session ends.
OUR 2022 HEALTH & SAFETY PLAN
At the time of the festival, if City of Seattle requires proof of vaccination, proof of a negative Covid-19 test within 48 hours prior to arriving at the event, or mask wearing, we will abide.
We will have hand sanitizer stations throughout the event site

If state or local health requirements change, we will adjust our admission requirements accordingly

If local health requirements change, we will adjust our admission policies accordingly.
EAT & DRINK FOR A GOOD CAUSE
Our festival is a benefit for Pet Cross, a Seattle-based animal welfare non-profit dedicated to helping provide free (and low cost) spays and neuters, fund no-kill shelters, provide emergency funds for lower income pet services, fund adoption programs, and help pay for feral animal trap/fix/release programs. To date Pet Cross has donated more than $200,000 locally. The ticket you paid for is where this money comes from. Keep up the good work!
---
Have more questions? Contact Us: