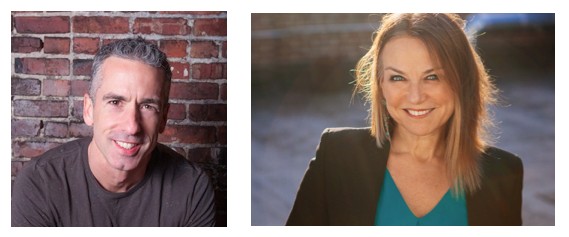 The Savage Lovecast presents: Dan Savage with Esther Perel
October 13, 2017 Doors at 7pm, Show at 8pm
Dan, Nancy, and the tech-savvy, at-risk youth are thrilled to be hosting friend and special guest Esther Perel for a live taping of the Savage Lovecast in Vancouver! You are invited to an evening of provocative discussion centered around Esther Perel's new book: The State of Affairs: Rethinking Infidelity. In the book Perel asks: why do people cheat—even those in happy marriages? And what can affairs teach us about relationships? Post-interview, Esther will be joining Dan on stage to answer all your sex, love, and relationship questions—and will be signing copies of her book after the show! Also on the show will be special musical guest Rachel Lark! Banyen Books will be on site hosting a book signing by Esther Perel as well as selling copies of her new book, THE STATE OF AFFAIRS: Rethinking Infidelity. *Note: the show will be taped and aired as an episode of the Savage Lovecast.
—
Esther Perel is recognized as one of today's most insightful voices on personal and professional relationships. A celebrated couples therapist who has helmed a private practice in New York City since 1983, she has over three decades experience navigating the intricacies of love and desire. Her international bestseller Mating in Captivity has been translated into twenty-six languages. Perel is a dynamic and provocative speaker on the international stage, with two critically praised TED talks that have reached over 18 million viewers. She has consulted on the Golden Globe-winning Showtime series The Affair and is also Executive Producer and host of the Audible Original Series "Where Should We Begin?", in which she broadcasts intimate one-off counseling sessions with real-life couples. In Perel's new book, THE STATE OF AFFAIRS: Rethinking Infidelity (Harper; $26.99; Hardcover; On Sale: October 10, 2017) Perel challenges assumptions, upends conventional wisdom, and offers a fresh, nuanced look at affairs from multiple viewpoints. Learn more at www.estherperel.com
Dan Savage is an author, a sex-advice columnist, a podcaster, a pundit, and a public speaker. Dan is a regular contributor to public radio's This American Life, and frequent guest on The Colbert Report and Real Time with Bill Maher. "Savage Love," Dan's sex-advice column, first appeared in the The Stranger, Seattle's alternative weekly, in 1991. The column is now syndicated to more than 50 papers across the United States and Canada. In 1996, Dan launched the Savage Lovecast, a weekly, call-in advice podcast. It is now one of iTunes top 50 podcasts. Dan's graphic, pragmatic, and humorous advice has changed the cultural conversation about monogamy, gay rights, religiosity, and politics.
In 2010 Dan and his husband Terry Miller founded the It Gets Better Project. The IGBP has gathered tens of thousands of videos from people all over the world offering hope to LGBT kids. The book—It Gets Better: Coming Out, Overcoming Bullying, and Creating a Life Worth Living—was a New York Times best seller. In 2012 the It Gets Better Project was awarded an Emmy. Learn more at: www.savagelovecast.com.
Rachel Lark is a San Francisco based singer/songwriter who's been featured on Salon, The Bay Bridged, and is a frequent guest on The Savage Lovecast. Her new album, They've Done Studies, was released in May on Not a Cult Records. In April she completed a European solo tour with stops in London, Edinburgh, Zurich, and Reykjavik, and in June she completed a one month U.S. tour with her band, The Damaged Goods. For more information about Rachel Lark, including future tour dates, check out rachellark.com. You can order her new album at rachellark.bandcamp.com.