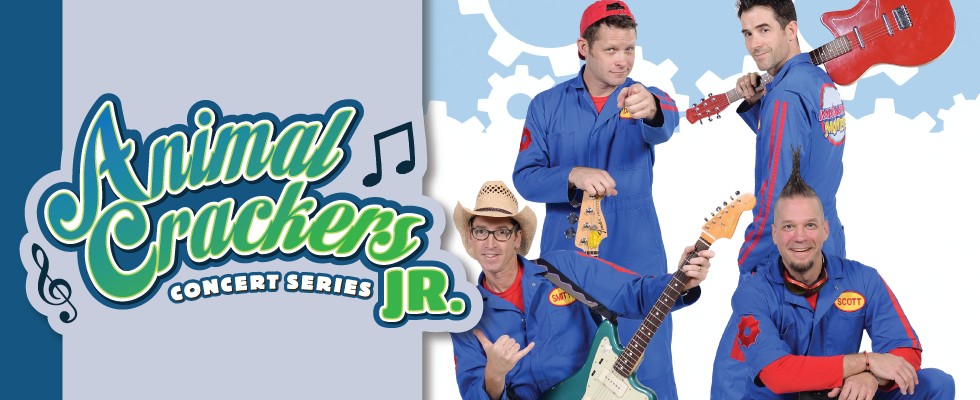 Imagination Movers
Friday, August 20, 2021 | Doors at 6PM | Show at 7PM
Imagination Movers General Admission
Imagination Movers Ages 2 Years and Younger Admission
Based on our popular Animal Crackers Concert Series, Animal Crackers Jr. Concert Series will deliver all the same fun, now for kids! Bring the little ones for two nights of singing, dancing, and musical delight. Enjoy the beautiful lake view, get a bite to eat from numerous dining options on site, and explore other kid-friendly activities. With an inviting family atmosphere, these exciting concerts are the perfect way to enjoy the outdoors this summer.
About Imagination Movers
The Imagination Movers are a rock band for families and the Emmy-winning stars of a hit TV series seen worldwide on the Disney Junior channel. The Movers began fifteen years ago when four friends from New Orleans brainstormed a show that would feature quality rock music and positive male role models while inspiring teamwork and creativity. The New York Times says the Movers are "prized by many parents for non-condescending lyrics and music that evokes the Beastie Boys or Red Hot Chili Peppers." Parenting magazine praised the band's "dash of rebellion" and songs that are "fresh and treacle-free."
For more information: racinezoo.org/animal-crackers-jr
Concert Time
Doors open: 6PM
Shows begin: 7PM
Show will last one hour.
Please note:
Children 15 and younger need to be accompanied by a paying adult.
Purchasing tickets for Animal Crackers Jr. does not permit entry to Racine Zoo during the day. Event takes place after hours, so additional Zoo admission not required. You only need your ticket for admission.
Concerts held rain or shine.
There is lawn seating, so bring a blanket or lawn chair.
Tickets not available at the door.
Only purchase tickets through the Racine Zoo website or in person at the Zoo. All other places tickets may be sold are a scam.
ALL PURCHASES ARE NON-REFUNDABLE