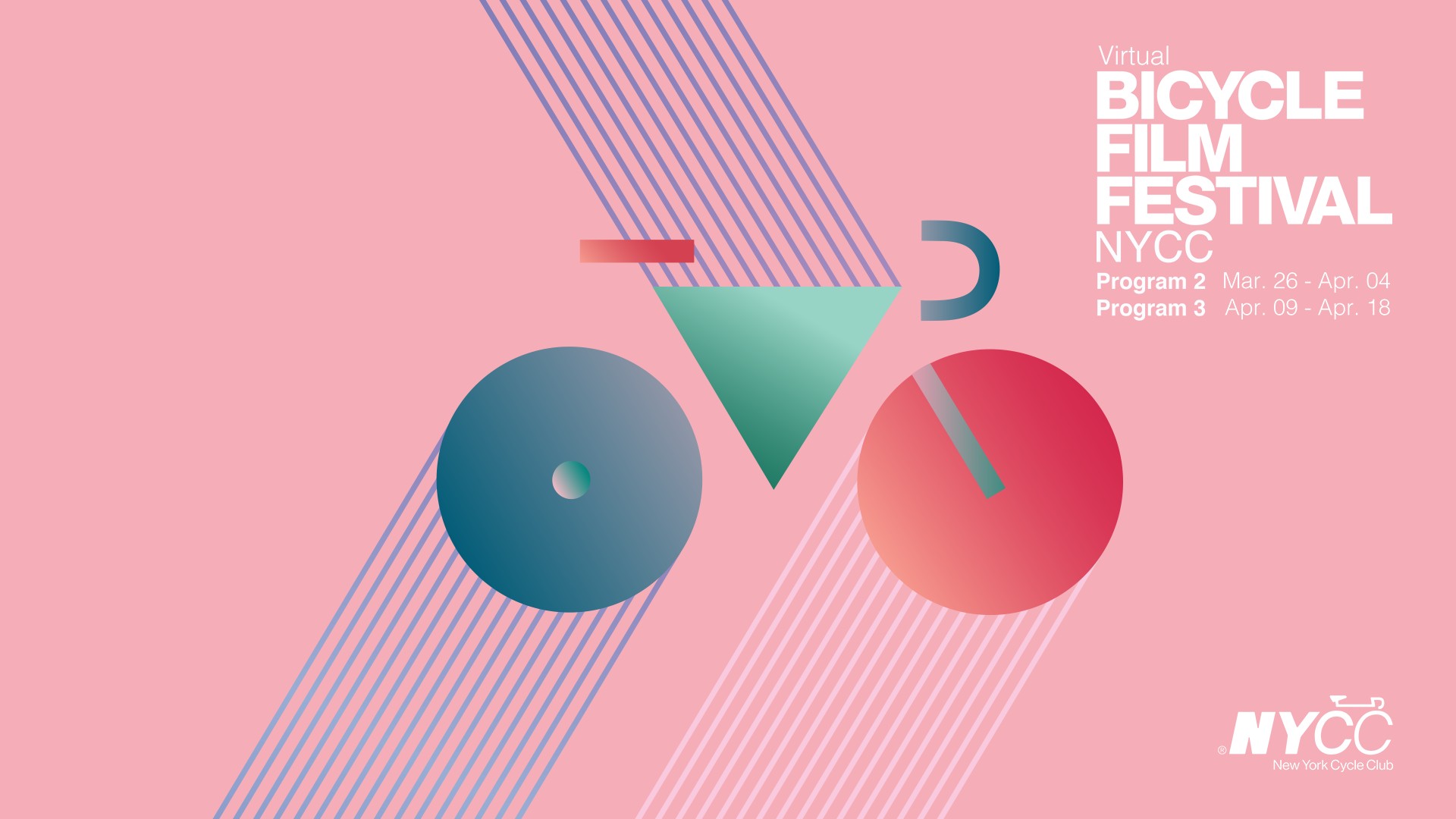 Bicycle Film Festival - NYCC Program 2


Select Short Film Program
Available to stream March 26 - April 4, 2021
The 20th Anniversary of Bicycle Film Festival is going virtual.
New York Cycle Club is hosting 3 virtual BFF programs for NYCC members, future members and guests.
Program 2: BFF Urban Bike Shorts
Available to stream March 26 - April 4
Bicycle Film Festival has been celebrating bicycles through art, film and music the last 20 years. The physical BFF spanned the world in over 90 cities worldwide to an audience of over one million people. The festival has an incredible history of working with the most important artists, filmmakers, venues, and institutions around the world. BFF is presenting an international selection of the most important short films from our collection.

With some 3,000 members, New York Cycle Club is the largest recreational cycling club in the New York area. NYCC runs rides at all speeds, of all levels of difficulty for all abilities from near-beginner to elite. With a shared focus on the joys of cycling, NYCC and BFF are natural partners.
BFF Urban Bike Short Films - Program 2:
Bicycle Film Festival and NYCC are presenting Urban Bike Shorts. A fun compilation of films, this program captures the spirit of the street and youth culture from around the world. An always popular line-up features innovative, energetic, passionate people who are dedicated to moving the bike movement forward in their cities. Urban bike shorts are a BFF tradition and offer the spark of life and vitality that give momentum to our cause. These inspirational and high energy stories are told from those who choose cycling as a lifestyle from a wide range of places. See an authentic and raw glimpse into:
- The first BMX crew in Nigeria
- The fastest cyclist on the planet
- A brief history of the bicycle
- A tribute to the life of the legendary frame craftsman and philosopher of steel, Dario Pegoretti
- New York City through the lens of female bike messengers
- Two women who bring a town together around mountain biking and their pizza shop
- Cycling as a response to knife crime epidemic in London
And more!

How does the Virtual Bicycle Film Festival work? A ticket allows you to view the 90-minute short film format from Friday, March 26 at 6:00pm ET through Sunday, April 4 at 11:59pm ET streamed to your computer, tablet, or smart TV by simply clicking on the link provided by email 15 minutes before opening date and time. To get a ticket link send to your email: select ticket, add to cart, enter the code provided by NYCC. You may view BFF in one sitting, or as you will, from the comfort and safety of your home.
Program 2: The 90-minute short film format will be available from Friday, March 26 at 6:00pm ET through Sunday, April 4 at 11:59pm ET.

New York Cycle Club - Founded in 1936, we are the largest recreational cycling club in the New York area. We are member-owned and 100% volunteer run. We offer rides at all levels to our nearly 3,000 members, training programs, and racing teams. No matter if you just bought a bike a few weeks ago and are looking to get into cycling, or you are a seasoned racer, in NYCC you will find a home and a group of people sharing your skill level. The Club offers daily rides, weekend excursions, a nationally-recognized spring training program, monthly meetings featuring important speakers in the field and a full calendar of special events, all in a friendly environment where you'll meet other, like-minded cycling New Yorkers of all ages. Becoming part of our vibrant NYCC cycling community means getting in shape, making new friends and exploring the most beautiful routes in the tri-state area.
New York Cycle Club provides:
-Outstanding bicycling activities for the enjoyment and education of members and guests.
-Furthers bicycling as a means of recreation, transportation, fitness and health.
-Works with and support organizations that promote cycling to underrepresented populations and advocates for sustainable transportation solutions.
-Builds bridges among the communities we live in and ride through.
-Promotes a welcoming, supportive community for our members and guests
——————————————-