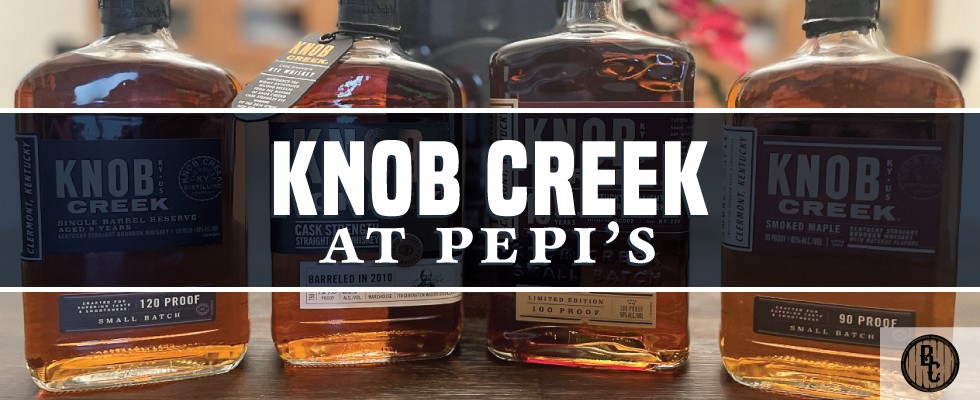 Bourbon Chronicles Presents
Knob Creek at Pepi's
Fri, Feb 18 from 5:30pm - 8:30pm
Join Bourbon Chronicles on Friday February 18th, 2022 at 5:30pm to explore a Knob Creek lineup in beautiful Downtown Racine at Pepi's Pub and Grill. The food pairings will be designed to complement each offering we will be tasting.
Included will be two theme-based raffle baskets! One will have a Fred Noe 25th Anniversary Single Barrel from 2004. This is an exceptional bottle that you will not find on any shelf and someone will be taking home the night of our event!
Plus, some lucky guests will go home with a select bottle of bourbon just for attending! We will also give away 1 Bourbon Chronicles Exclusive Cigar Stave with a Glen Cairn glass and 1 exclusive tasting stave with 3 Glen Cairn glasses. There is limited seating for this experience so buy your tickets before they are sold out!
Knob Creek expressions for the night will be:
1 oz. Knob Creek 9 Year

1 oz. Knob Creek Rye

1 oz. Knob Creek 15 Year

1 oz. Knob Creek Smoked Maple
Pepi's Pub and Grill has been in Racine for 30 years offering 24 different craft beers on tap not to mention a huge bourbon selection to choose from. Their menu has a wide range of appetizers, small plates and their famous Bambino steak sandwich!
Our events are a unique experience that bring people together from all over to share a common interest of their love for bourbon while organically creating new relationships and fostering existing ones.
Additional info about the event:
The event runs from 5:30 pm to 8:30 pm, we will begin sampling the expressions at 6:30 pm.
There will be a bar with beer, wine and other bourbon selections for purchase.
Ticket sales end Monday, February 14, 2022 at 12PM.
Tickets are non-refundable but if you are not able to attend, they may be used as a credit for a future event.
Please email bourbonchroniclesllc@gmail.com to advise of any food allergies or special requests when you purchase your tickets.
Must be 21 or older to attend.