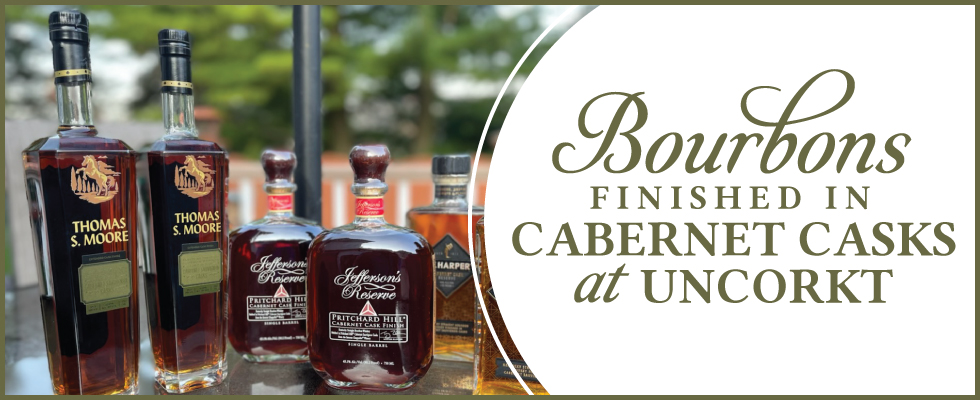 Bourbon Chronicles Presents
Bourbons Finished in Cabernet Casks at Uncorkt
Fri, Oct 14 from 5:30pm - 8:30pm
Non-Drinking Admission
more info
This tickets only includes dinner, no bourbon tasting.
Join Bourbon Chronicles on Friday, October 14, 2022 at 5:30 pm for an exclusive bourbon tasting with Tony at Uncorkt. We are presenting 3 different bourbons that are finished in various Cabernet casks. You will also be greeted with a New York Sour as a welcome cocktail! The setting will be upstairs at Uncorkt overlooking Main Street!
Included will be two theme-based raffle baskets with select bourbon and goodies to match the theme. Plus, some lucky guests will go home with a bottle of bourbon just for attending! Also check out our new BC swag, including hats and shirts just in. There is limited seating for this experience so buy your tickets before they are sold out!
Expressions for the night will be:
I.W. Harper Cabernet Cask Reserve
Jefferson's Pritchard Hill Cabernet Finished at Chapelle Winery
Thomas S. Moore Cabernet Sauvignon Finish Bourbon
Our events are a unique experience that bring people together from all over to share a common interest of their love for bourbon while organically creating new relationships and fostering existing ones.
The event runs from 5:30 pm to 8:30 pm, we will begin sampling the expressions at 6:30 pm.
Additional info about the event:
There will be a bar with beer, wine and other bourbon selections for purchase.
Must be 21 years old to attend
Please email bourbonchroniclesllc@gmail.com to advise of any food allergies or special menu requests when you purchase your tickets.
Ticket sales end Tuesday, October 11th 2022 at 12PM unless sold out prior to this date.